The output of English composer Benjamin Britten (1913-1976) is fascinatingly varied, spanning everything from large-scale operas via a famous War Requiem and orchestral showpieces like A Young Person's Guide to the Orchestra, to some of the most adventurous and exciting chamber music of the twentieth century.
But where to start with this captivating and eclectic composer? Here, we recommend five key Britten works to get you started, and a best recording for each one.
Benjamin Britten: best works
A Ceremony of Carols
Composed in 1942 while Britten was crossing the Atlantic from America, its unusual scoring of treble voices and harp present a range of serene, exhilarating and ecstatic settings of medieval carols.
Recommended recording:
Choir of King's College, Cambridge/David Willcocks
Classics for Pleasure 968 9492
Serenade for Tenor, Horn and Strings
This was Britten's first major work on returning to England. The calm pastoral of its opening song revealed a new vein in his music.
Recommended recording:
Peter Pears (tenor), Barry Tuckwell (horn); English Chamber Orchestra/Benjamin Britten
Decca 436 3952
Peter Grimes
The première secured Britten's international fame and the opera testifies to Britten's masterful sense of drama.
Recommended recording:
Peter Pears; Royal Opera House Chorus and Orchestra/Benjamin Britten
Decca 467 6822
War Requiem
Written for the reconsecration of Coventry Cathedral, Britten juxtaposed the Requiem Mass with poems by Wilfred Owen.
Recommended recording:
Peter Pears, Dietrich Fischer-Dieskau; Bach Choir; LSO/Benjamin Britten
Decca 475 7511
Suite on English Folk Tunes
Britten admired Grainger more than Vaughan Williams, and this is evident in his by turns quirky and brooding suite.
Recommended recording:
Bournemouth SO/Richard Hickox
Chandos CHAN 9221
Authors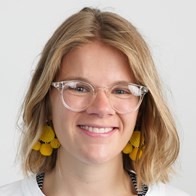 Freya Parr
Digital Editor and Staff Writer, BBC Music Magazine
Freya Parr is BBC Music Magazine's Digital Editor and Staff Writer. She has also written for titles including the Guardian, Circus Journal, Frankie and Suitcase Magazine, and runs The Noiseletter, a fortnightly arts and culture publication. Freya's main areas of interest and research lie in 20th-century and contemporary music.