Mary Bevan
The soprano talks to Rebecca Franks about appearing in Fiona Shaw's new production of Mozart's The Marriage of Figaro at ENO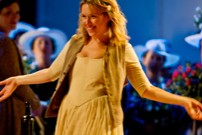 Published: October 7, 2011 at 5:04 pm
What was the atmosphere like before opening night?
I felt brilliant! But it was particularly nervewracking as our Countess, Kate Valentine, has just been taken ill, so her cover is going on. So I wasn't worried about my bit, because I was just thinking about Elizabeth Llewellyn having to go on! In a way it took the heat off. But I always love first nights. You have your dressing room filled with cards from people wishing you well, and the atmosphere is buzzing.
You're singing the role of Barbarina. Who is she?
She's a village girl, but slightly more elevated than that. She works in the household, and is Antonio's daughter and Susanna's cousin. I see her as being younger than Susanna, maybe 14 or 15, but possibly when she gets older and Susanna moves on, she'd be the next maid to the Countess. She has this relationship with the Count, who is a complete womaniser, and she uses her power over him to get what she wants. She can be quite sly. In this production she's quite damaged. In those days losing your virginity before you were married was a big deal, and here she's drunk, an alcoholic. I'm an angry, crazy drunk in most of my scenes. She manipulates the Count in front of everyone to get her way, saying you come in to my room, hug me, kiss me and say you'll do anything for me, well now I want Cherubino. And here she wants to marry Cherubino because she's just got pregnant by we don't know whom, and she needs to get married quick. The thing that I love about Fiona Shaw is that she hasn't said, just do whatever, Barbarina's a small part. She's given me a huge back story. I wasn't expecting it. Barbarina is usually done as a cheerful little girl who runs around and has a little cheeky moment, but that's it.
So this is a much darker take on the opera?
Yes. And the Countess is the older version of Barbarina, who married the wrong man and has been let down and rejected by him. You see her having a drink and taking some kind of drug, and that's quite hard and sad to watch. Then there's that bit at the end when the Count finally gets on his knees and says forgive me. Normally everyone always laughs at it, it's a comedy moment. But in this production it's awful, the Countess's life has been ruined and then yet again she forgives him. And Barbarina marries Cherubino, but at the end in the Finale he goes off with a girl in the chorus, so she's left like the young Countess with an alcohol addiction and no man. I feel sorry for her! And for the Countess, too.
What are the musical highlights for you?
I've always loved Barbarina's aria. It only lasts two minutes maybe, but it's a beautiful little piece. She's saying I've lost a pin, a needle, and she's just saying I've lost it, I'm so stupid. I sing it right at the very front with just the curtain behind me, so it's quite bare. My highlight of the whole piece is definitely the Finale with the Count, where he says forgive me.
What's it been like to work with Fiona Shaw?
I think she's brilliant! I was really excited to be working with her – I've really admired her as an actress, I've seen her in Harry Potter and other things. She's just how I thought she would be. She knows everyone's names, and she is always thinking about fresh ideas to bring to it, what could be original. It's so refreshing when you've done Figaro a good few times. She also lets everyone have their own creative input, and that's fine as well, but she really wants you to give your own ideas, which makes it much more satisfying.
You recently appeared in Nico Muhly's Two Boys at ENO, which must have been quite different. It was a completely different atmosphere, crew, role, different everything. This is a smaller role, but somehow I have more to do because of the back story. In Two Boys I was a made-up computer character, so I physically just stood there and gave my lines, doing a little bit of acting, but I was told not to do too much. In this I have to literally fall over drunkenly on stage a few times. Barbarina is falling over, kissing Cherubino and lolling about, generally being a bit of a fool, but you still have to sing and enunciate your words. It's a difficult one!
Interview by Rebecca Franks
The Marriage of Figaro is on at ENO until 10 November